SofterWare Named One of Top 40 Places to Work
Based on independent survey of employees SofterWare ranked 14th among companies with fewer than 150 employees.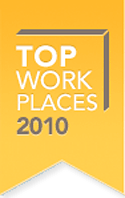 Horsham, PA — An independent survey conducted by the research company Workplace Dynamics LLC, as well as The Philadelphia Inquirer and Daily News, placed SofterWare 14th in their Small Company ranking for the Philadelphia metropolitan region.

The ranking was based on a comprehensive survey of company employees on 6 areas related to
the workplace:
Direction: Assessment of the company's values, leaders and future
Execution: Assessment of how the company communicates and gets work done
Career: Opportunity for training and progression
Conditions: Assessment of the working atmosphere and working environment
Managers: quality of the managers and their managerial skills
Pay & Benefits: Assessment of employee compensation for the work done
In addition to providing ratings in each of these categories, employees were also given an opportunity to comment on their jobs at SofterWare, and many did. Mike Scott, VP of Finance and Operations noted, "I think the feeling of many of our employees was summarized in one employee's comment who wrote: "… I have the best job in the world. Wonderful clients, whom I work with everyday, inspire me to help them use the software to the fullest capabilities. I really do look forward everyday to get up and work for SofterWare."
Doug Schoenberg, CEO of SofterWare, Inc., said "Although SofterWare has previously been recognized in various rankings for our growth and financial performance, this recognition is one of the most gratifying we have ever received – because it comes from the hard-working team of people who drive our success. In fact, we know that it's the people who work here that make SofterWare such a great place to work."
Nathan Relles, Founder and President of SofterWare, elaborated "One of the reasons I started SofterWare was so I could work with outstanding people and treat them the way I always thought a company should – with the right blend of professionalism, flexibility, respect, and appreciation. This survey confirms that we've been doing that well, and I'm so proud of these results. We try hard to listen to our clients and listen to our staff. As a result, we've been able to grow steadily and continue to achieve even higher levels of customer and employee satisfaction."
About SofterWare, Inc.
SofterWare, the parent company of DonorPerfect Fundraising Software, has been developing and supporting software that is easy to learn, use, and customize since 1981. For over 30 years, SofterWare has grown exponentially from a small entrepreneurial business to a $40 million+ company with over 10,000 nonprofit, childcare, camp, school, and payment processing clients.
Media Contact
Sam Goldenberg
(215) 542-4390 x233
sgoldenberg@softerware.com